Sistahs Of Vizions 2015 Calendar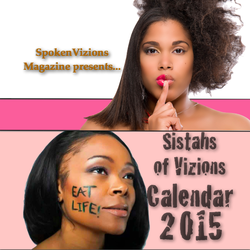 Our brand new Sistahs Of Vizions Calendar 2015 is here and available, free with your new paid subscriptions to SpokenVizions Magazine and/or SVY Magazine.

Featured on this calendar are some amazing artists. Singer Jurni Rayne, poet Yahminah McIntosh, poet One Single Rose, poet Mahlikah Awe:ri, winner of the 2014 Vizions IN Fashion competition Lashannon Petit, Dr. Deborah D. Grison (aka Collage), poet Tanya Alexander, poet Nikki Skies, visual artist Belle Be, poet Safiyyah Amina, singer Steffanie Christi'an and singer Teisha Marie.

Get your subscription today and be inspired.
---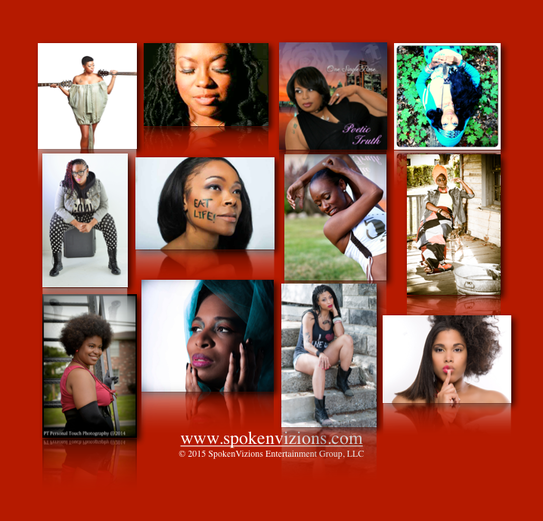 Sistahs Of Vizions 2014 Calendar
2014 included some incredible artists. Featured on this calendar: poet Farida Momtaz, poet Tasleem Jamila, Vizions Of Fashion 2013 Winner Mimi Irvin, indie artist queen Conya Doss, singer Jasmine Clemente, poet Red Summer, poet and filmmaker Jai Harris, legendary hip hop artist Suhayla Sabir aka Sweet LD, legendary actress Cherie Johnson, legendary poet Jessica Care Moore, MasterPiece and hip hop artist Ensilence.

---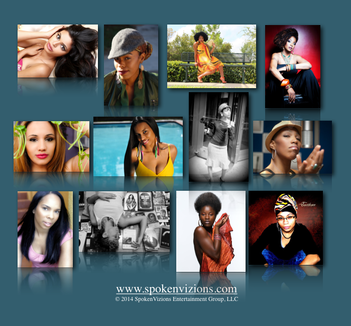 Sistahs Of Vizions 2013 Calendar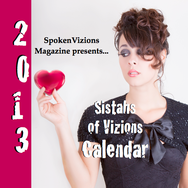 2013 included singers Carmen Amara, Amber Ojeda (the cover picture) and Tarrey Torae, Poets Monica Daye, Selena J, Rebecca "Butterfly" Vaughns, X Blu Rayne, Donalja James, Shawntay Dalon, and Kimeko Farrar, entertainer Rece Jones and Photographer and Boxer Jessica McCaskill.

(please allow 2 to 3 weeks for the calendar to arrive.)
All Subscriptions are digital at this time. Hard copies of the magazines
are not being printed at this time. Once again, subscriptions for the magazine
are only digital at this time.

---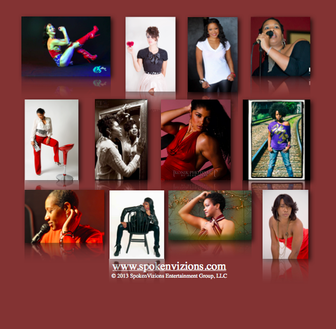 SpokenVizions Magazine Collector's Item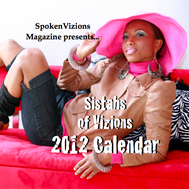 Sistahs of Vizions Calendar is the brainchild of poet, editor, musician, lupus activist and film maker Floyd Boykin Jr. The calendar was created to promote female artists, writers, and other women of substance, with the hopes to spark creativity and expression.

Women, of all backgrounds, have an unique expression that can not matched and will not be denied. Often, it is because of the energy and the mere existence of women, that the world is inspired.



---
Classy and Classic

Artists included on this calendar are...
Rachel Walker, Isis Sun, Elisa Gonzalez, Tantra-Zawadi, Natasha "Beautifulthought" Ane'e, Stylicia, Maya Azucena, Karina Nistal, GiTwice, Deborah Magdalena, Venus Jones, and Janette...ikz. This calendar is meant to show women in a positive light and also expose the creative side. Thank you for supporting our very first "Sistahs of Vizions" Calendar.

---
Return Policy

All sales are final. No refunds. Credit is allowed towards another product of equal value on our site, or credit can go towards another product that is higher in price.